:) Its sure good to be home, my recent trip overseas has got to be the longest one I've ever taken! & a most interesting one at that! Plus I've just learnt something new about myself, I'd never have thought I would miss home so much :P
To get things back on a roll here at Jinjerup,
our new theme of the month shall be Whims and Fancies.
Usually I'm always in such a rush when it comes to traveling from point A to B but on that morning, I experienced a beautiful kind of special, it stopped me straight in my tracks. I was making my way to a market, all geared up and ready for some purchasing-market action when I turned into this wide lane full of old, tall flowering trees.
It was breathtakingly gorgeous, the scene of the flowers swirling slowly down and showering everyone beneath them with petals, in the morning light.
I would've sat on the ground and given up my whole market charade just to absorb everything in if not for the people jostling against me. I'd had forgotten what a beautiful feeling it is to just breathe and take in everything around me. That shall be something I shall have to work on more! :)
Plus that's how I got my inspiration for Jinjerup's first new pattern in August.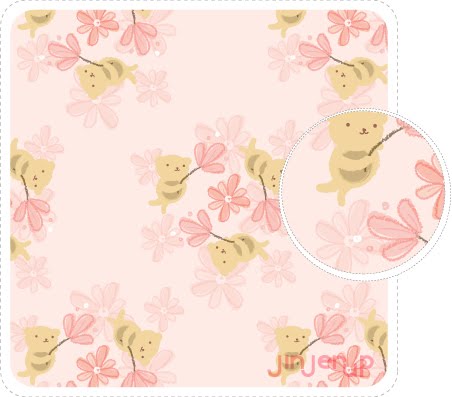 A puff in time (bear)
Drifting with whimsical pink blossoms, these little bears
certainly know how to travel
A puff in time (rabbit)
Drifting with lovely blue blossoms, these petite bunnies
certainly know how to travel
A puff in time (cat)
Drifting with sweet orange blossoms, these teeny tiny neko
certainly know how to travel
Stay tuned for super sweet, cute patterns and freebies coming your way!