This week's freebie is a special one, as it features my favourite new pattern:
Mr & Mrs Byrd.
I wanted to make a slightly different sort of card with the two little birds designed as intros to the contents inside so I whipped up these oh so
cute Mr & Mrs Byrd Invitation cards!
These mini cards are
so easy to make, with minimal folding and in such adorable colors too.
Although I had designed them to be invite cards,
they are great for any sort of message too, please do feel free to use them as note cards, mini greeting cards or just to say hi! :)
The Byrds say Hello!



A list of items you'll need to make the bookmark:
1. Paper (of a preferably thicker stock)
2. Printer
3. Scissors
4. Box cutter (blade)
5. Single Hole Punch (Optional)
6. Thin ribbon (Optional)
Here's a pictorial tutorial I've whipped up:
Have your materials at the ready!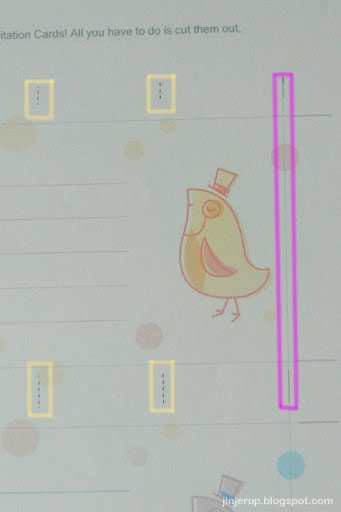 Take note of the 2 different type of crop marks.
The dotted line crop mark (boxed in yellow) are folding lines. The normal crop mark (boxed in pink) are cutting lines.
Locate the 8 dotted line crop marks then score them across from one end to the other with the back of your box cutter. You would have scored 4 lines, this helps ensuring smoother folding lines later.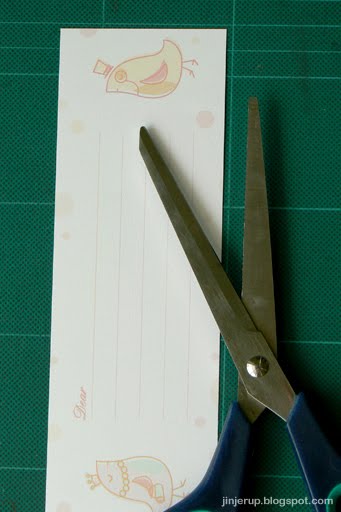 Cut out the invite card along its normal crop marks.
Fold the scored lines as pictured above.
Fold the scored lines as pictured above.
Press the folds together.
Repeat the same folding and pressing actions for the other side of the invitation card.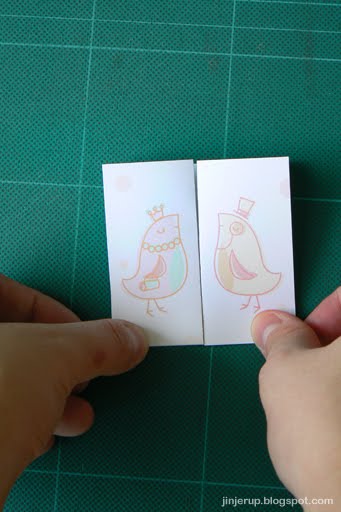 When ready, this is what your invitation card shall look like.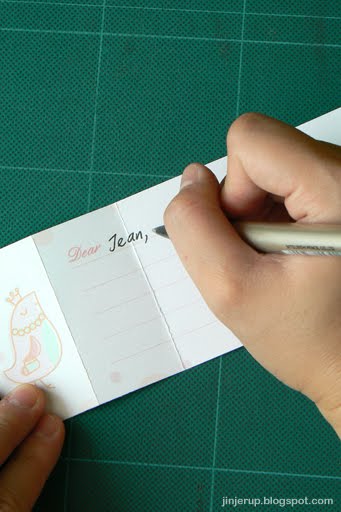 Write your message inside! ;)
& you're good to go! Time to present them to your card recipients!
There are 2 other alternative ways you could present the cards.
Is your single hole punch ready? (If you do not have one, fret not! You could use a double hole punch, using only one of its hole punches OR you could even pierce the card with a needle and resize the hole as required.)
Alternative #1:
Punch two holes as pictured above.
Thread a ribbon narrow enough to fit through the holes and
make a mini bow!
This looks really cute when its standing up by itself.
Alternative #2:
Punch two holes as pictured above.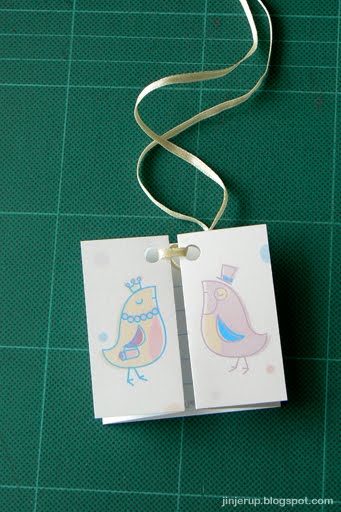 Thread a ribbon narrow enough to fit through the holes and make a knot,
leaving excess ribbon there, long enough for you to tie it around a gift. Now the card serves as a gift tag too!
A flock of byrds
Mr & Mrs Byrd, tying the knot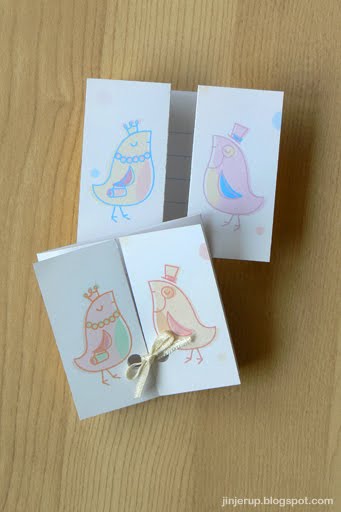 View of natural & mini bow style byrd card
View of gift tag styled byrd card
Byrds of a feather, flock together
_______________________________________________________________
Here's where you can download the templates for the invitation cards:
Measurements:

Sizes of invitation card (Open Size)
:

(w)19cm x (h)6.5cm
OR
(w)7.5inches x (h)2.5inches
Sizes of invitation card (Closed Size/Folded close)
:

(w)6.5cm x (h)6.5cm
OR
(w)2.5inches x (h)2.5inches
UPDATES
(29-09-2011)
Hi there, thanks for your interest in this Jinjerup freebie. We've updated it, please visit this link to view & download the new updated freebie:
http://jinjerup.com/1528/freebies/mr-mrs-byrd-invite-cards
Visit our new Jinjerup Blog for more cute freebies & printables:

http://jinjerup.com/category/freebies
Note:The measurements provided above are based on the templates provided but actual sizes depend on your printer settings, you may even reduce their sizes by shrinking them in photoshop!
_______________________________________________________________
Am off to the land of nod, take care &
have a great week ahead everyone!!
XOXO,
Lynn
____________________________________________________________________

Update:
Many, many thanks to everyone for featuring Jinjerup on all your lovely blogs and sites:
supahcute
Make, Do & Send
TokyoBunnie
Swap-bot
Craftzine:
Craftig
The Long Thread
Tipnut
One Pretty Thing
Much love!! :)