For this week's freebie, I've persuaded these adorable fruits to be part of Jinjerup's freebie Bookmark collection! Previously we shared the
Chickchic Bookmarks
and now we have
the Summer Fruit Punch Bookmarks! (& Of course, these new bookmarks are based on my Fruits of the sun patterns 1, 2!)

Featuring durian, lychee, mangosteen, papaya, pineapple and watermelon, a tastefully cute collection for your summer reading pleasure!
Durian
Lychee
Mangosteen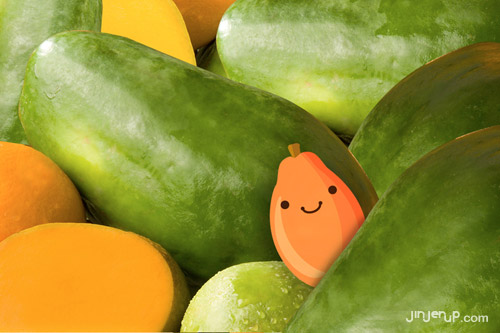 Papaya
Pineapple
Watermelon
All featured summers fruits together!

Pick your fave summer fruit bookmark & its off we go!!
A list of items you'll need to make the bookmark:
1. Paper (of a preferably thicker stock)
2. Printer
3. Scissors
4. Box cutter (blade)
Here's a pictorial tutorial I've whipped up:
Have your materials at the ready!
Select and separate the bookmark(s) you want
Using your box cutter, start cutting along the grip area from
dot to dot. (eye to eye)
This creates the flap for which the bookmark
grips itself to pages.
Trim the off the excess white paper off the fruit & you've got your bookmark!!
All completed Summer Fruit Punch bookmarks!
Group shot :)
Pineapple, durian and papaya bookmarking one of my fave books of all time!
Such fruitful bookmarks! :P
Zoomed in view of pineapple working on his fave chapter.
_______________________________________________________________
Here's where you can download the templates for the bookmarks:
Measurements:
Sizes of bookmarks vary between 5cm x 5cm, 5cm x 6cm and 5cm x 7cm
Please click on the colored links below for the downloadable templates!
Measurements of template:
(w)8cm x (h)18cm
OR
(w)3inches x (h)7inches
Note:The measurements provided above are based on the templates provided but actual sizes depend on your printer settings, you may even reduce their sizes by shrinking them in photoshop!
_______________________________________________________________
UPDATES
(29-09-2011)
Hi there, thanks for your interest in this Jinjerup freebie. We've updated it, please visit this link to view & download the new updated freebie:
http://jinjerup.com/1626/freebies/summer-fruit-punch-bookmarks
Visit our new Jinjerup Blog for more cute freebies & printables:

http://jinjerup.com/category/freebies
_______________________________________________________________
I'm going back to munching on lychees.
Have an absolutely fantastic weekend everyone!!
XOXO,
Lynn
Fruit Images Credits: USDA ARS Gallery